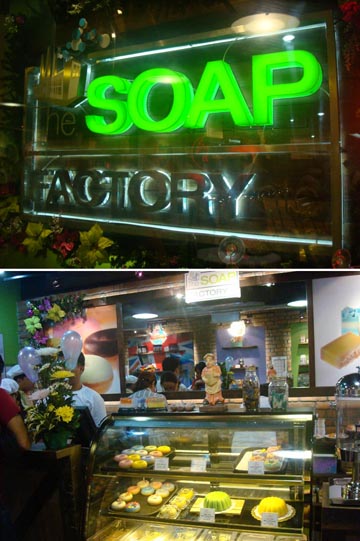 Another discovery at the recently opened Megamall Atrium. Aside from housing the hottest retail brands and restaurants, The Soap Factory made its grand opening to welcome you in the world of soap making.
The store set-up is more like Krispy Kreme's wherein you can actually see them make the soap. They would cut, shape and design the donut soap/cupcake soap/cake-slice soap/etc. in front of you.
Customer service and notable! I love their friendly and inviting store clerks. They even let the customers go inside the glass room and design the soaps themselves!
The donut soaps and cake-slice soaps are reasonably prices, ranging from USD 2.00 – USD 5.00. But if you get 12 pieces or more, you get to have them at their factory price, usually 15% cheaper. They also offer whole cake soaps (8″ to 10″) which are tagged at USD 12.00 – USD 27.00.
Aside from soaps, they also offer a whole range of personal care products like lotions, body wash, and colognes.
The Soap Factory is also found at The Block.