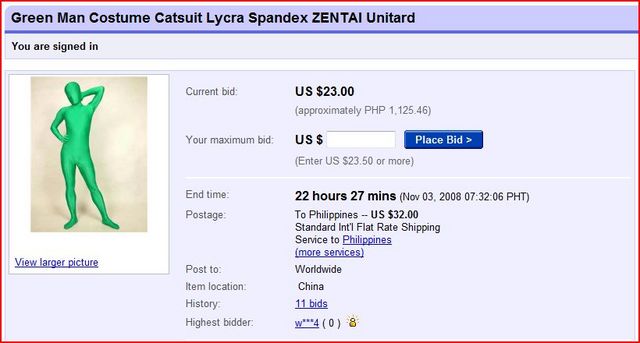 I was browsing through ebay this morning for funny–totally un-ordinary–Halloween costumes… and this one caught my eye. I found this strange spandex Green Man–almost resembling an alien. LoL
With 11 bids at USD 23 on this ebay post, I was so curious whether people really wear this freakfest. So, I browsed on youtube for people who have actually worn this in public… and true enough, this has been used in so many Green Day/World Environment related events like the video below.
[youtube=http://www.youtube.com/watch?v=PcVr335I9Pk&NR=1]
Funny though, I can't imagine seeing these here in Manila… that would totally freaky–and funny! I'm sure this will scare the hell out of kids. Haha! Imagine, having weird aliens following you in the streets… with those weird and scary jerking movements they make.
But hey, I would certainly find it amusing to see them do these stunts in–let's say–High Street or Rockwell. LoL! I can just imagine how bad they can rock the boat!