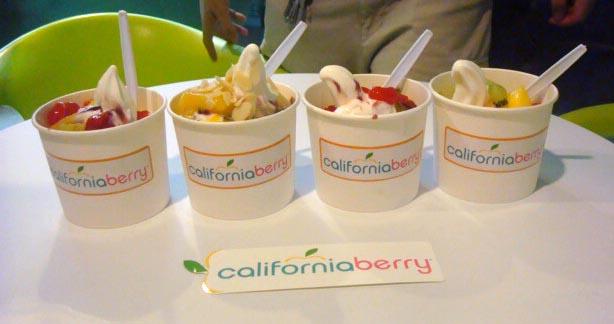 Another FroYo store done on my checklist!
I finally got to taste Californiaberry–the FroYo store that started it all in Manila.
Californiaberry is a pleasant surprise! I do think this is better than Yogurbud… well, cheaper at least. The price is really competitive–just P85 for a medium cup classic yogurt, and only Php 115 for 3 toppings (shown in the picture). The large cup is only Php 115 and Php 145 if you get 3 toppings. They also offer this teeny sized cup for kids, which is only Php 60, plus Php 20 each topping. Ergo, this tops off Yogurbud on my list, at Php 115, you get the same cup size, but with more toppings. Still, I'd go for Yohgurt Froz 🙂
I must say, I love it that they have enough supply of various fruit toppings… and other candy/cereal/nut toppings. They've got cherries, blueberries, peaches, kiwi, etc. Yum! Plus, their yogurt is sweet!
I encourage you to check Californiaberry out. It's just right at Madison Square along Ortigas Ave. 🙂