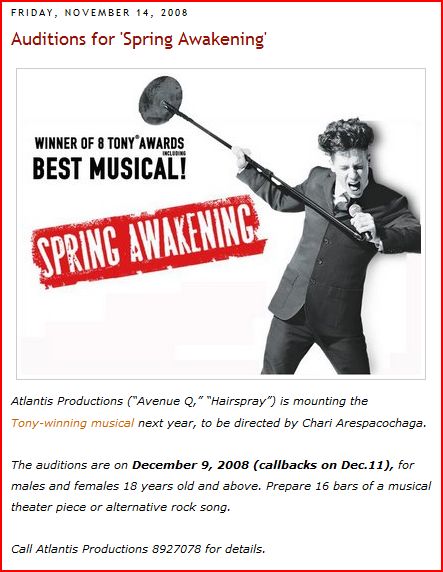 It's official, it's now in the works!
Remember, I was whining about Spring Awakening coming in Manila, calling out to local theater prods to make my wish come true….? Well, what do you know, Spring Awakening is finally coming! OMG! 🙂
I did a little Google-ing and found this post on Spring Awakening auditions.
SO, calling all the talented boys and girls out there who can make Manila's version worth watching, mark your calendars on the 9th of December, practice your vocal chords and don't let this opportunity slip away, please. 🙂
Thanks to Marvin and Chino for letting me know! 😉
Oh, and Atlantis Productions, you're heaven-sent!! WAIT, just one more wish, PLEASE PLEASE don't use Star Theater for Spring Awakening, PLEEEASE???
Updates: ok, I just called Atlantis. ATM, they don't have the venue and time details yet, so just check their website from time to time for further details. For now, you just have to prepare for your 16 bars of musical theatre song (you should bring either a minus one cd or piano score) and a current photo for the audition.