While Day 1 was spent entirely on the vessel, Day 2 was packed with city tour for both Ilo-ilo and Bacolod. Luckily, I didn't had any episode of barfing from motion sickness. I had so much fun during the Magenta Party and I can pretty much say that I even enjoyed my first night's sleep in 2GO Travel's MV St. Michael the Archangel.
I woke up around 8am on November 20. Breakfast is usually served at the vessel by 7am, I think. So after having our breakfast, we were asked to wear the official 2GO Travel shirt for that day–I feel like a kid going on a field trip.
We reached Iloilo at around 11am. We took time to take pictures with the rest of the gang.
We rode the shuttle to go around the city with Ms. Mel as our tour guide. We learned so much about the rich history of Iloilo and how it was the last city to be given up by the Spaniards.
We were able to pass by the cute Strawberry Mansion, which was named such because of its red painted walls. Owned by the prominent Rosales family, the mansion has hosted a lot of high society gatherings. Interestingly, we were also told that this was the old house of Cardinal Sin.
Another structure we were able to pass by is Colegio de San Agustin de Iloilo. San Agustin is the first Augustinian University in Philippines.
I don't think our trip will be complete without having chicken inasal as one of our meal. True enough, we stopped over at BBQ Park to have our inasal and halo-halo fix.
Next stop is St. Anne's Parish of Molo Church.
The Molo Church or Saint Anne Parish church is the incredibly old and beautiful Feminist Church in Iloilo. This was called the "Feminist Church" because all of its statues in the church represent female saints. This church was built in 1831 under the order of Fray Pablo Montano using lime stones and egg whites.
Across the church is a pavillion, also called as the Molo Plaza, which houses the statues of 6 Greek goddesses. These are Aphrodite (love and beauty), Athena (war), Artemis (wilderness, hunt and fertility), Hera (marriage), Hestia (domesticity) and Demeter (agriculture). This is the reason why Molo Plaza is dubbed as the Athens of the Philippines.
After checking out the Feminist Church, we stopped over at Jaro Cathedral, which is formally known as Jaro Metropolitan Cathedral and the National Shrine of Our Lady of the Candles. Jaro Cathedral is dedicated to St. Elizabeth of Hungary.
What's special about this church is that it has all-male saints paraded on its columns, an answer to Molo Church's all-female theme. Also, this is the first church I have seen with its bell tower built across the church and not beside it. Another distinctive feature is the stairs attached to the front facade of the cathedral, over the main entrance, leading up to a shrine above the main entrance to a statue of Our Lady of the Candles, or formally known as Nuestra Señora de la Purificacion y Candelaria, also known as Nuestra Señora de la Candelaria.
Our Lady of the Candles, an image of Mary carrying a candle and a child, is believed to continuously grow in size. The statue, which was then 12 inches tall, was initially discovered in 1587. Now it stands about 4-5 feet tall and has attracted devotees believing in its miraculous power.
The image of Our Lady of Candles is the only Marian image in the country to be canonically crowned by a Pope. Blessed Pope John Paul II crowned it during his first Philippine visit on February 1981.
After the quick bite at Deco's for their famous La Paz Batchoy, we headed to our last stop for Iloilo–The Capitol. We spent a couple of minutes to visit their Capitol or Iloilo's City Hall to drop off the relief goods we prepared for the Ilonggos.
Boarding SuperCat was another experience for me. I was able to squeeze in a little snooze time during this 1-hour ferry ride from Iloilo to Bacolod.
At around 6.30p we reached Bacolod and was welcomed by their festive Masskara dancers.
[youtube=http://youtu.be/HB9-AJS9-sQ]
We then proceeded to check out The Ruins in Talisay, Bacolod.
We were so lucky to be attended by Roger, The Ruins' famous tour guide.
The mansion was built in the early 1900's by the sugar baron, Don Mariano Ledesma Lacson and was home to his unmarried children with his first wife, the Portuguese Maria Braga Lacson.
During World War II, the Lacsons had to burn down their mansion to prevent the Japanese forces from using it as their headquarters. It took three days to burn down the mansion's roof and its two-inch wooden floors.
Our final foodie trip was in Calea, Bacolod's famous cakes and pastry shop. With its great selection of mouth watering cakes, it was not hard for us to find something to enjoy. The bloggers enjoyed the sweet and delicate cakes of Calea, a brand that is already a household name in the city.
Here are the cakes we dug into.
Finally, we had a quick stop to check out Bacolod's Capitol before we went back to MV St. Michael the Archangel.
Do you think the fun ended there? Nope it didn't. To cap off the night, we played a little beer pong against the passengers of the cruise. 😉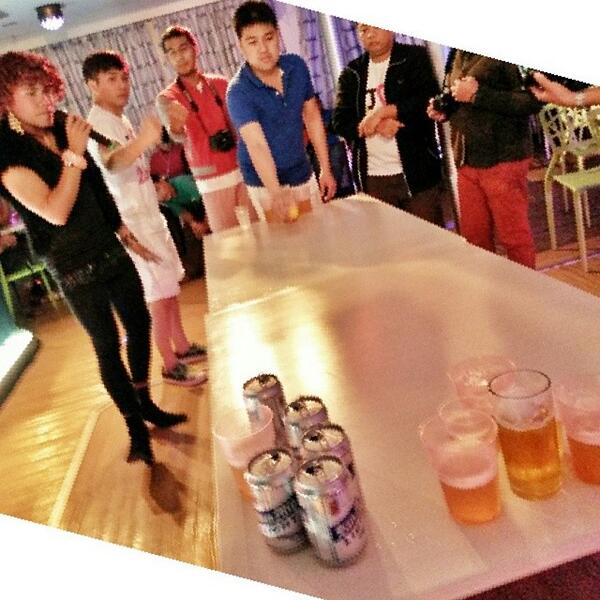 Read about Part 1 here. Check out my final installment posted here. Thank you so much to 2GO Travel and Tagline Communications for this unforgettable cruise-like experience. To know more about 2GO Travel, visit their website http://travel.2go.com.ph/ Don't forget to follow them on Facebook, Twitter, and Instagram.